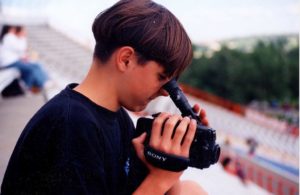 Based near Montreal, Quebec, Canada
Noah has been a filmmaker for most of his life. He has worked in video, indie film, documentary, wedding films, television and web-commercials. He does everything you need: shoots, colour-grades, edits picture and sound. He has worked with some great brands. Fearless, dedicated and thoughtful in his approach, he is well-tuned to client needs, cool under pressure, enjoyable to work with and able to realize creative ideas visually.
Noah grew up in Calgary, Alberta, with a brief interlude overseas with his family, and moved to Montreal, Quebec in 2004. He always loved making films. The technical aspects are thrilling to him, but what really hooked him was the way people respond to good films. His first films were for his classmates, using his dad's video camera and editing with a VCR. They included special effects, animation, sound and music, and motion graphics. Over the years the technology has improved, and Noah still loves what he does. In 2018 he screened his first feature film, Love Notes to Newton before a packed audience in Silicon Valley. The screening was attended by Steve Wozniak, the co-founder of Apple. It was a great moment for Noah, one that he hopes to achieve again one day.
Contact me directly to find out more or to discuss a project.